I moved to Cambria to stop moving, but moving is all I seem to do.
Since my return in March, most of my time has been on the road: Burbank, Los Angeles, Hermosa Beach, Pismo Beach, Santa Cruz, Los Gatos, Truckee, Lake Tahoe, Las Vegas.
In between miles and miles of music, podcasts, and CD's (still!), I ponder…
At the gathering of friends in Los Angeles, I am introduced to a newcomer. "Heidi is our gypsy." (Interesting to hear yourself described in the third person). Granted, it's true. Especially in the last eight years. However, my itinerant inclinations began long before then. Later that evening, I wondered: Why am I filled with wanderlust? Where do our passions come from? They kind of define us. Can you recall or trace the origins of yours?
Hmmm…since Tom died, I have been interminably mobile, a peregrinator. "The pain could only be borne by constant, endless movement."  – Josephine Hart, "Damage"
But that's not all of it. Tom and I met through our 'chosen' careers – in flight! Thereafter, we journeyed to every state in America and explored over fifty countries. And even before Tommy, I had antsy pants; I relocated from Cleveland to Boston to Chicago, to Los Angeles (commuting to Dallas-Ft Worth) and took full advantage of my non-revenue travel benefits. But even further back, fifty-some years ago (I touch upon this in this blog's "About" page)…
My dear twin, Kurt, saves his paper route money and generously buys us tickets to visit our brother Ronnie in exotic Minot, ND.  Yes, that's right; our first flight ever is on Frontier Airlines from Cleveland Hopkins to Minot International (funny, they called it International even though it only had one gate). From the moment we arrive to the airport, I am bewitched. Some folks hustle with their suitcases…on the move to Somewhere. Others embrace in a warm greeting or with teary eyes as they say goodbye. Walking down the jetway to the airplane feels like we're stepping on a red carpet to magic land. Every little thing has me ting-a-ling-linging – the attractive and smiling crew, the echoing sound of the door closing followed by a guided pushback. The plane taxis to the top of the runway and pauses. Anticipation almost unbearable. Then, oh my god. The engines gain momentum…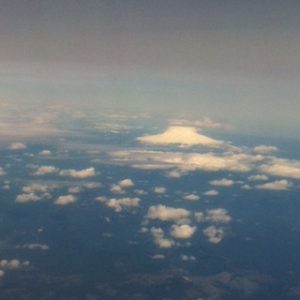 velocity increases..the ground becomes a blur…and the moment of climax…the plane lifts! To defy gravity?! The ultimate move. My insides float upward and disappear. Something altars within my cells, my Self. I am higher than the clouds we're passing through. I fly.
It moved me then, it moves me still. I think that's the origin of my "call" to travel. Travel is where it's at for me…Destination: New experience… fresh perspective.
So I returned to Cambria with intentions of "settling" for awhile. Taking time to visit family and friends, to read, write, and perhaps to finally begin "that project". Yet more than likely, you'll find me sitting in a window seat at 35,000 feet. Others will look at their computers while I will have the only shade open, letting in the light, gazing with gratitude at our Earth below. When I get a stink eye for causing glare on their screen, I'll tell them in a reverential tone, "Kings and Queens of one hundred years ago didn't have this opportunity – to see the world from this vantage point; I just can't get enough." Doesn't matter if the response is a nod of agreement or a snort, I'll keep the window open, my face turned toward the horizon.
"Not all who wander are lost."  J.R.R. Tolkien
"To live is to fly
Low and high
So shake the dust off of your wings
And the sleep out of your eyes."  – Townes Van Zandt