I don't have to tell you. These are Tricky Times. It can be overwhelming.
Some days I want to say, "What the f..k?!"
(Slap my wrist, I'm trying to mitigate the swearing…"What the fubar*?!")
Sometimes, this social deprivation business makes a face in my mirror and whines, "I want to burn the masks and see smiling faces again. I wanna dance to live music. I whine-a go somewhere……" Waa. Waa. Waa. All selfish statements of finding, "what's wrong with the day."
I've never been fond of New Year's resolutions and this is not one of those. But I'm initiating a spanking new dialogue of self-help-talk. If I find myself straying to thoughts about what I'm missing or what's wrong in the world, I'll send in a mental pinch-hitter to say, "What is RIGHT with this day?!"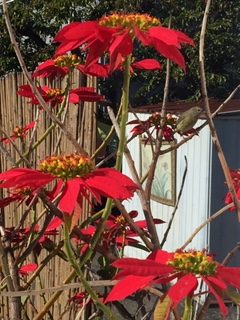 Today at the library, a book is on hold waiting for me. Outside my window, a pretty yellow bird flits amid red poinsettia blossoms. A little girl in green galoshes waved at me as I passed by; I'm still smiling inside.
I'm alive.
I live in peace (relatively).
I have food, water, shelter.
I have friends and family to love.
That's it …
oh, what the fubar…!..I'll throw in my New Year's Eve video-dance (I feel the need to preface that this was created BEFORE I poured my first glass of champagne…)
Here we come, 2021!!!
"Live life like you're gonna die
Because you're gonna
Now, maybe you won't suffer maybe it's quick
But you'll have time to think
Why did I waste it?
Why didn't I taste it?"
– William Shatner
"It's been a long
A long time coming
But I know a change gonna come
Oh, yes it will"
— Sam Cooke
*New Oxford American Dictionary – fubar/ adj. out of working order; seriously, perhaps irreparably, damaged. Origin 1940's: acronym from fucked up beyond all recognition (or repair).