Lately I've been questioning my obsession with live music. It seems to be getting worse. What is wrong with me? Where did it come from? Have I always been this way? Why?! Is it an escape? A diversion? An excuse to tipple?
New Orleans has about one or two gazillion music venues. There's live music happening somewhere in the city every morning, afternoon, evening, and throughout the night. New Orleans and music are One. Like gumbo and roux, you can't have one without the other. And when you live there, that's just what you do. You check out live music. A lot. You dance. A lot.
While no comparison, there's a fair amount of live music on the Central Coast. (Travel experiences?!) Just a couple of weekends ago The Young Dubliners headlined a festival near Pismo Beach with a performance that Irish-jigged my mind. Every week I find some kind of musical happening with an opportunity to dance. A significant advantage here is timing. In New Orleans, it isn't unusual for music to begin around 10 p.m. Here, most venues end at that time, or earlier. Positively perfect for the elder (I didn't say mature) audience, of which admittedly, I am now a member.
On the eve of Macker's memorial last month, there happened to be a Voodoo Threauxdown happening at the Santa Barbara Bowl. Trombone Shorty & Orleans Avenue with special guests: The Soul Rebels, Dumpstaphunk, with George Porter Jr. and Cyrille Neville, original members of The Meters, Big Freedia, with Tank and the Bangas. Are you kidding me?!?! I know what it means to love and miss…New Orleans. And again, a single ticket was available. Just what I needed to celebrate life before acknowledging a death.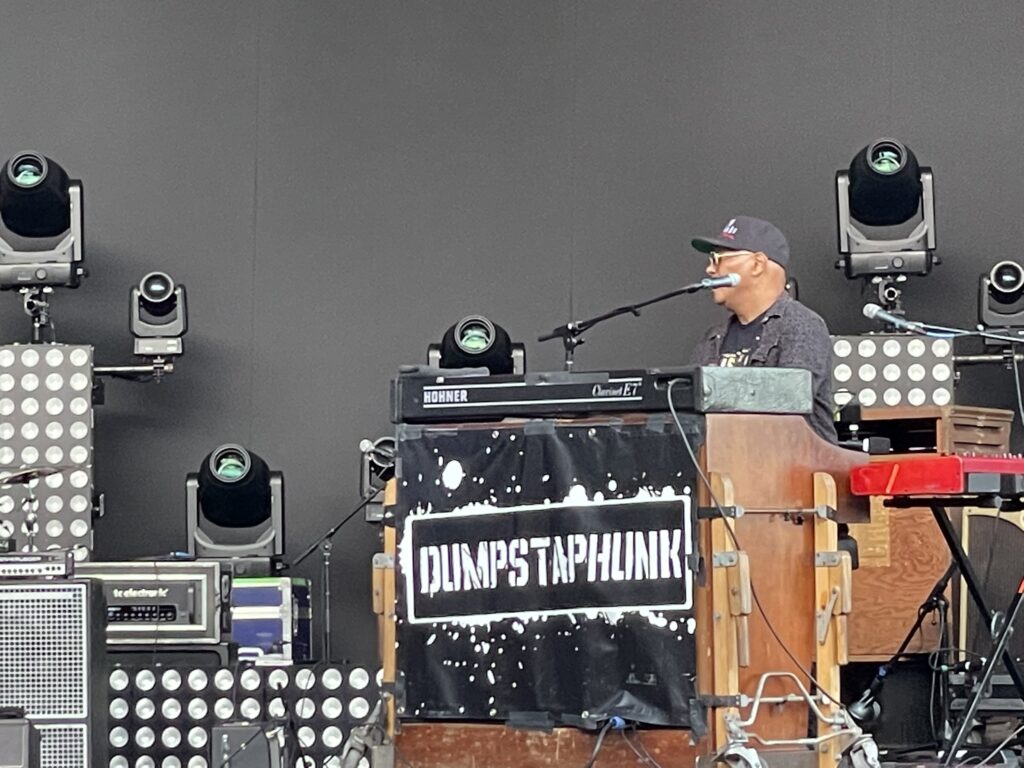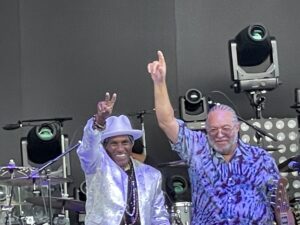 Kings of funk
By the time I made it to my seat, Soul Rebels had finished and Dumpstaphunk had only a song or two left. But Cyrille Neville and George Porter, Jr. were my main attractions, so I got to see, hear, and dance to their legendary funk sounds. While the stage crew prepared for the next act, I hiked up to the terrace to enjoy a panoramic view of the American Riviera. I meandered through the enthusiastic crowd, air thick with the 'toke'n fragrance of festivals. I reached the balustrade, and after a few moments, a couple came and stood behind me. I made room for them and we got to talking like old friends, Lisa and Eric. Suddenly, I had to excuse myself to the batroom. Before returning to my seat, I went to bid my new 'bud'dies fare well. I found them smoking a joint which they handed to me. "Oh no, thanks. I'm driving and pot puts me out." Jokingly I added, "I'm almost better on LSD." Then Lisa reached into her bag and pulled out a bag of mushrooms. Are you kidding me?! I politely declined, delighted with these middle-aged professionals and their recreational choices.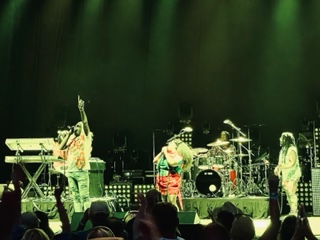 As we made our way back to our respective seats, Big Freedia was doing a final bounce and Tank and the Bangas were singing their final notes. When they finished, a couple next to me (also middle-aged) raved about their performance. They said they were already high on gummies and that the performance took them even higher. I LOVE this crowd! Mushrooms and gummies and weed, oh my! Initially, I was disappointed in myself for missing the act. Then I reconsidered. Concerts and festivals are organic – unfolding as they will. Sometimes you meet strangers and they become new friends for a day; sometimes you encounter an old friend and share a warm embrace. As social animals we need – we thrive – on social interaction, exchange, touch.
When Trombone Shorty & Orleans Avenue stepped on stage, everyone stood, and stayed that way. Electric positive vibrations pulsed and circled the crowd like a whirling dervish. We were One in appreciation for New Orleans music and for "Laissez le bon temps rouler." Home away from home to me.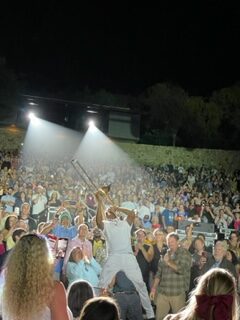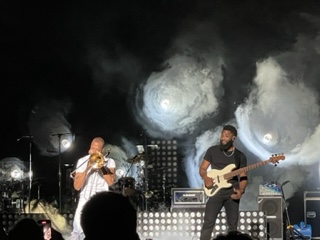 As to my obsession with live music?
I'm coming to realize…it's not just the music. It's dancing with the music. To me, music and dancing are, and always have been, One.
My dear friend Marcy just phoned, sweetly interrupting my writing. I mentioned the subject of this post. She said, "When I see you dance, it's like you leave your body. You touch a higher power, a transcendence. I feel it when I sing on stage. We all seek that feeling."
Ah so, it's not obsession. It's Passion. (I like that answer.)
Now I've got to giddyup, there's a good band playing in town tonight…
"Blow horns you sure sound pretty…makes me want to move my body yeah yeah yeah."
– Vicki Sue Robinson (Turn the Beat Around;)